---
Weekend Love Horoscope
Friday, Sep 5 -- Sunday, Sep 7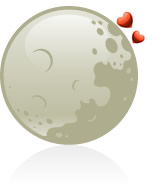 A quirky Aquarius Moon from Friday until Sunday evening will set the stage for a series of strange yet potentially exciting romantic events this weekend.

The irony of it all is that love planet Venus moves into Virgo on Friday. Virgo and Aquarius have nothing in common. The Aquarius Moon will leave you with a strong urge to do something off the beaten path with your sweetheart -- even something rather experimental! Venus in Virgo, however, is all about playing it safe in matters of the heart. So safe, in fact, that she can easily miss the love boat entirely!

The good news about Venus in Virgo is that you can count on your partner paying close attention to the details this weekend. He or she will have no problem tending to the obligations in your relationship. Whether it's taking out the garbage, picking up the dry cleaning or giving you a foot rub, you will express love to each other through humble service.

But remember: With that Aquarius Moon there will be something quite unusual and unpredictable about the weekend. Enjoy the weirdness.
Aries: 2 out of 3 hearts
Taurus: 2 out of 3 hearts
Gemini: 2 out of 3 hearts
Cancer: 1 out of 3 hearts
Leo: 3 out of 3 hearts
Virgo: 3 out of 3 hearts
Libra: 2 out of 3 hearts
Scorpio: 1 out of 3 hearts
Sagittarius: 2 out of 3 hearts
Capricorn: 1 out of 3 hearts
Aquarius: 2 out of 3 hearts
Pisces: 2 out of 3 hearts
---
More For Today:
Psychic Tip of the Day
Tuesday, September 2, 2014
BIG VISIONS
Are you aiming too high? Today delivers a vision of how you might actually ...
---