Weekend Love Horoscope
Friday, Apr 24 -- Sunday, Apr 26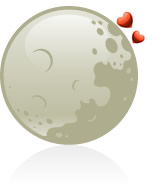 The weekend starts off with the Moon in sensitive Cancer on Friday night. Use this time to snuggle with your sweetheart and to enjoy all of the comforts of home together. In fact, it's probably going to be the ONLY time you're home for the rest of the weekend.

On Saturday the Moon enters vibrant Leo and you'll be ready to party! Leo is romantic and pleasure-seeking, but also knows how to make others feel special. You and your honey can anticipate the rest of the weekend to be filled with entertainment and unexpected delights. Adding to the Leo Moon on Sunday will be a gorgeous connection between love planet Venus and surprise-a-minute Uranus. If single, you might suddenly run into someone who instantly captures your heart.
More For Today:
Psychic Tip of the Day
Tuesday, April 21, 2015
SEEK PROPS
A lover who gives you positive feedback today is a solid bet for stability ...
Talk with a Psychic