---
Weekend Love Horoscope
Friday, Jul 25 -- Sunday, Jul 27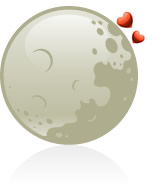 Mars will change signs, moving into Scorpio late Friday evening. This will enhance your libido, and give you the courage to explore your more erotic side -- including any forbidden urges you may have. While you might never act on these cravings, you will surely feel the desire to explore them. Either way, you'll be discreet about it. Scorpio doesn't like an audience.

In contrast, however, Leo does love attention. On Saturday, the Moon will enter party-time Leo, and it will become a New Moon by early evening. This will set the stage for plenty of emotional drama, as you are determined to pursue pleasure to the fullest degree possible.

You and your lover will have the chance to enjoy whatever brings you the most joy together. Attend a party, go to a casino, or take in a concert or show. Because Leo is the sign connected to romance, it's possible you'll meet someone new and find yourself falling madly in love fast. Love is grand this weekend, and the potential to physically enjoy every moment of it is equally outstanding. Make the most of it!

Aries: 3 out of 3 hearts
Taurus: 1 out of 3 hearts
Gemini: 2 out of 3 hearts
Cancer: 2 out of 3 hearts
Leo: 3 out of 3 hearts
Virgo: 1 out of 3 hearts
Libra: 2 out of 3 hearts
Scorpio: 2 out of 3 hearts
Sagittarius: 3 out of 3 hearts
Capricorn: 1 out of 3 hearts
Aquarius: 2 out of 3 hearts
Pisces: 2 out of 3 hearts
---
More For Today:
Psychic Tip of the Day
Thursday, July 24, 2014
LOVING BLOOM
Look for a fresh perspective in your love relationship as romantic possibilities ...
---