Weekend Love Horoscope
Friday, Feb 12 -- Sunday, Feb 14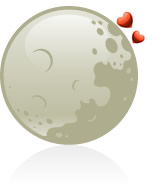 It's Valentine's Day weekend in the United States and that means romance, hearts and flowers might be all around you. But will it be supported in the cosmic sky? This year, the answer is a resounding YES!

Venus will still be actively trine Jupiter this weekend even though the aspect peaked on Wednesday. As a result, if you're in a relationship, you can anticipate plenty of romantic gestures and indulgences this weekend.

On Saturday, the Moon enters sensual Taurus, where she'll remain for the rest of the weekend. She'll be emotionally balanced all weekend, making lovely links to Neptune and Pluto before opposing Mars -- ensuring that there's enough heat to warm up the bedroom on Valentine's Day evening. On Saturday however, Mars will be at a gorgeous angle to Jupiter which will expand everyone's motivation to pursue whatever makes you the most passionate. If that happens to be your paramour then you can expect more than just a box of chocolate this weekend. Yum!

Tarot & Astrology Articles
---
More For Today:
Psychic Tip of the Day
Saturday, February 13, 2016
IMAGE MARKETING
Get the word out and a love interest could understand the opportunity ...