---
Weekend Love Horoscope
Friday, Aug 22 -- Sunday, Aug 24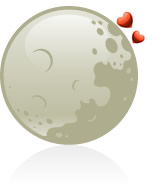 You'll definitely be in the mood for love this weekend, thanks to the Moon moving through Leo from Friday afternoon all through Sunday!

On Saturday, the Moon will slide into both Venus and Jupiter -- also in Leo -- assuring there will be plenty of good feelings, romantic vibes and opportunity for pleasure. This will be an incredible day to expect fun and carefree adventure in your world. Make it special if you're attached by planning a romantic dream date with your lover.

If single, this is certainly a "party time" atmosphere, so as long as you're out and about with friends you'll have a great time. You might even meet someone special, but if you don't, you honestly won't care. You'll have plenty of self-love this weekend to keep you fulfilled!

On Sunday, the good vibes continue, but they will begin to wind down in the early afternoon when the Moon squares off with Saturn and reminds us that the weekend is almost over. Back to work and reality first thing Monday morning!
Aries: 3 out of 3 hearts
Taurus: 2 out of 3 hearts
Gemini: 3 out of 3 hearts
Cancer: 2 out of 3 hearts
Leo: 3 out of 3 hearts
Virgo: 2 out of 3 hearts
Libra: 3 out of 3 hearts
Scorpio: 2 out of 3 hearts
Sagittarius: 3 out of 3 hearts
Capricorn: 2 out of 3 hearts
Aquarius: 3 out of 3 hearts
Pisces: 2 out of 3 hearts
---
More For Today:
Psychic Tip of the Day
Thursday, August 21, 2014
WORDS OF LOVE
If you have been with the right person, honesty should come easy. ...
---