Weekend Love Horoscope
Friday, Apr 25 -- Sunday, Apr 27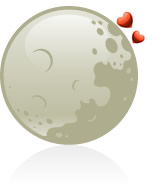 Venus connected to Saturn may not be the most romantic, alluring aspect, but it certainly helps keep a relationship intact. This valuable link is known as the "glue" to any partnership, and if you've got this connection with a lover in your relationship Astrology, then you know the match will stand the test of time (for better or worse).

This weekend, while the Moon is in sensitive Pisces on Friday night, there will also be the backdrop of a friendly Venus-Saturn link. This will help you see the endurance potential in a love connection.

On Saturday, the Moon enters fiery Aries and all bets are off. This is self-directed, impulsive emotional energy, and by Sunday the Moon will make nothing but difficult links to other planets.

Expect an abrasive, argumentative and hypersensitive Sunday. It will be such a radical change from Friday that you might feel as if you've entered the Twilight Zone. Either way, put down your magic wand sometime Saturday and put on your suit of armor. Just in case.
Aries: 2 out of 3 hearts
Taurus: 1 out of 3 hearts
Gemini: 2 out of 3 hearts
Cancer: 1 out of 3 hearts
Leo: 2 out of 3 hearts
Virgo: 1 out of 3 hearts
Libra: 2 out of 3 hearts
Scorpio: 1 out of 3 hearts
Sagittarius: 2 out of 3 hearts
Capricorn: 1 out of 3 hearts
Aquarius: 2 out of 3 hearts
Pisces: 1 out of 3 hearts