Weekend Love Horoscope
Friday, Aug 1 -- Sunday, Aug 3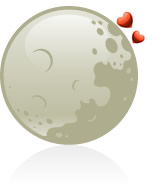 You might go into the weekend feeling like love is a sure thing, but wait -- not so fast! Yes, the Moon will be in partnership-oriented Libra until late Saturday night, but the dominating energy has more to do with Mars in intense Scorpio. This weekend you might feel a sense of endless frustration with your lover because he or she may seem more interested in lying low than doing anything social.

On Saturday, Mercury in playful Leo will square off with Mars, and there could be an argument about love, sex, or having more fun in your relationship. This may escalate quickly, leading to angry words spoken that one of you ultimately regrets.

Fortunately, the Moon in Scorpio will link up supportively to both Neptune and Pluto by Sunday, allowing both of you to soften up enough to address the situation. Don't allow a lover's quarrel to ruin a potentially good time!
More For Today:
Psychic Tip of the Day
Thursday, July 31, 2014
UNCERTAINTY
You may not realize the intentions of a lover as your own perceptions ...