Weekend Love Horoscope
Friday, Jul 31 -- Sunday, Aug 2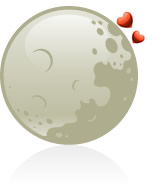 The Full Moon in Aquarius on Friday, along with Venus traveling retrograde into Leo will set the stage for an eventful weekend in matters of the heart. First, the Full Moon will help you become aware of why you might be trying to rationalize your feelings instead of feeling them. Perhaps you'll also realize that there's a short circuit in your ability to receive love. If this happens, consider talking to a friend about how to move past this emotional block.

With Venus moving back into Leo there's a retrograde lesson connected to giving love as well. If you have given until it hurts in the past in order to feel that you're worthy of love then this weekend might truly be an eye opener. The Pisces Moon on Saturday into Sunday will promote unconditional love -- starting with unconditionally loving yourself.



More For Today:
Psychic Tip of the Day
Tuesday, July 28, 2015
SYNCHING UP
Look to find the common ground you may share with a potential soulmate ...
Talk with a Psychic