Weekend Love Horoscope
Friday, May 27 -- Sunday, May 29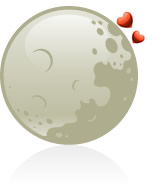 On Friday morning, Mars retrogrades back into Scorpio, where he'll remain retrograde until June 29. This weekend, you might realize that you're forced to revisit an intimacy or trust problem you have with your partner.

However willing you are to swim in deep waters now will directly correlate to your ability to resolve an issue you and your lover have been trying to hide from. If you are open to the possibilities of revealing yourself body and soul, then this might turn into a very sexy retrograde period indeed.

Tarot & Astrology Articles
---
More For Today:
Psychic Tip of the Day
LOTS HAPPENING
Staying clear about where you two are going can be difficult when so much is happening. Try to stay in touch with fundamental realities. Are you having too much fun?