Weekend Love Horoscope
Friday, Aug 28 -- Sunday, Aug 30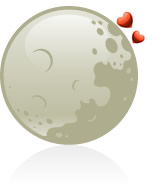 The Moon starts out in Aquarius this weekend, allowing Friday night to bring the best energy possible for social fun with your lover and your friends. Attend a group event if possible -- the more eccentric the better! Then, on Saturday afternoon all of the quirkiness will give way to deep sentimentality. A Full Moon in Pisces will have your heart swelling with emotion. In fact, you'll feel the deepest level of compassion and unconditional love possible. The question is: does your partner deserve it? You may struggle with feelings of cloudiness around trusting your emotions. Are you living the dream when it comes to romance? Or, are you simply trying hard to convince yourself that you have a dream lover? Answers may not arrive this weekend so either way, you might as well enjoy the reverie.



More For Today:
Psychic Tip of the Day
Sunday, August 30, 2015
NEW BEGINNING
This is a signal from the heavens that starting a new role in life ...
Talk with a Psychic