What Are Karma Coins and How Do They Work?
Get more when you use Karma Coins!

What are Karma Coins?
Karma Coins (KCs for short) are digital credits used to purchase Tarot.com products. What's the benefit of using KCs instead of cash? You receive a discount on everything you purchase!

---
Why should I use Karma Coins?


Big Savings
Receive up to 50% OFF all your purchases when you buy in bulk


One-Click
Skip the tedious credit card form and get right to your personalized insight!


Easy Tracking
Your KC balance is displayed at the top of each Tarot.com page for your convenience
---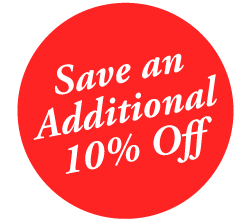 New to Karma Coins?
As a first-time purchaser you will receive an additional 10% off your selected KC package.
Get Your Discount Now!
---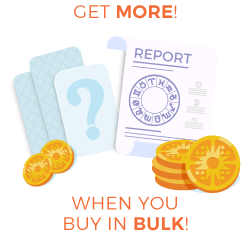 How much can you save?
You decide!
Put the power of the KCs to work for you. When you buy in bulk, you can save up to 50% off on all of our products! Choose your package NOW!
---
Karma Coins packages
You control the cost of your reports and readings! KCs are worth 10¢ each* but you can get them for as low as 5¢ each when you buy in bulk. Here's how it works...
---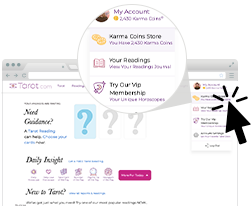 How do I use Karma Coins?
Log into your account.
After selecting your reading or report, you'll be prompted to use your available KCs.
That's it! No need to fill out a form or enter your credit card information. With just a couple of clicks, you'll get the clarity and guidance you're seeking.