Cancer Daily Love Horoscope:
Saturday, April 14, 2018 If your lover has ever had difficulties processing one of your big, bold ideas, they may come to accept one of them today. You're not sure why things are shifting on this front, but they are and you're happy about that. In fact, you're now willing to move things forward because you're aware that just as quickly as circumstances turned in your favor, they may reverse once again. In matters of the heart, striking while the oven's hot is a really good move right now.
---
Choose Another Zodiac Sign:
Psychic Tip of the Day
STAYING SILENT
Speaking your true thoughts might be next to impossible. It might be better to study others' failed attempts at finding words. Can you stay silent for long?
More For Today:
Weekly Love Horoscopes
What's on your romance horizon??
Read what's in the stars for your relationship in the days ahead with your free weekly love horoscope.
Love Compatibility Meter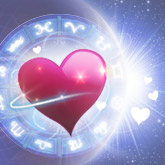 Headed for Love?
Will your new romance fizzle ... or sizzle? See how much of a match you really make with our FREE Love Meter! You may be surprised at the results (wink, wink).