General Daily Love Horoscope:
Monday, April 16, 2018 As much as we'd love to focus on being productive, the promise of romantic playtime diverts our attention today. With the Moon moving into tenacious Taurus, we're more aware of our senses when we're in love. However, an angsty Mercury-Venus connection reminds us that we have a choice in whether or not we put our passionate pursuits above mundane tasks right now. Lucky for love, cosmic tie-breaker in a Venus-Jupiter opposition moves us to follow our hearts, not our heads.
---
Choose Another Zodiac Sign:
Psychic Tip of the Day
STAYING SILENT
Speaking your true thoughts might be next to impossible. It might be better to study others' failed attempts at finding words. Can you stay silent for long?
More For Today:
Weekly Love Horoscopes
What's on your romance horizon??
Read what's in the stars for your relationship in the days ahead with your free weekly love horoscope.
Love Compatibility Meter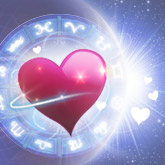 Headed for Love?
Will your new romance fizzle ... or sizzle? See how much of a match you really make with our FREE Love Meter! You may be surprised at the results (wink, wink).