Pisces Daily Love Horoscope:
Monday, April 16, 2018 A lover may come along with wild visions of romantic adventure today, tempting you in ways you've never experienced before. The invitation may even have literal travel built in, and despite your initial resistance at such a crazy notion, you're starting to wonder whether you have it in you to take such an epic journey with your paramour. When you get to that fifty-fifty point in your pros-and-cons process, ask yourself to be honest about what you really want. Your heart will break any tie.
---
Choose Another Zodiac Sign:
Psychic Tip of the Day
STAYING SILENT
Speaking your true thoughts might be next to impossible. It might be better to study others' failed attempts at finding words. Can you stay silent for long?
More For Today:
Weekly Love Horoscopes
What's on your romance horizon??
Read what's in the stars for your relationship in the days ahead with your free weekly love horoscope.
Love Compatibility Meter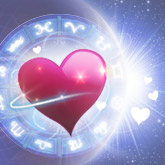 Headed for Love?
Will your new romance fizzle ... or sizzle? See how much of a match you really make with our FREE Love Meter! You may be surprised at the results (wink, wink).