Sagittarius Daily Love Horoscope:
Monday, April 16, 2018 A special love relationship feels bright and shiny to you at this moment, and you're inspired by the passionate potential of an intense romantic connection now. You've been down this road before, where you crush out on someone and then the romance fizzles. Not this time. You are reading the situation with great emotional clarity and you know that you have all the information you need to assess this blossoming rapport with realistic expectations. It all seems so positive right now that you're willing to make a bet that this love alliance goes well into the future.
---
Choose Another Zodiac Sign:
Psychic Tip of the Day
STAYING SILENT
Speaking your true thoughts might be next to impossible. It might be better to study others' failed attempts at finding words. Can you stay silent for long?
More For Today:
Weekly Love Horoscopes
What's on your romance horizon??
Read what's in the stars for your relationship in the days ahead with your free weekly love horoscope.
Love Compatibility Meter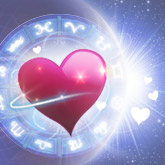 Headed for Love?
Will your new romance fizzle ... or sizzle? See how much of a match you really make with our FREE Love Meter! You may be surprised at the results (wink, wink).