Taurus Daily Love Horoscope:
Saturday, April 14, 2018 Don't go to great efforts to try to explain your powerful perceptions to your sweetheart today. You may be dealing with existential revelations that you cannot possibly share just yet. You will soon get your opportunity to reveal your newfound wisdom to create positive change in your love relationship, and you will soon know the best way to convey it to the one you love. You are privy to powerful cosmic energies that will eventually inspire you to take action toward a specific, passionate purpose. For now, let your epiphanies bake for a while longer.
---
Choose Another Zodiac Sign:
Psychic Tip of the Day
STAYING SILENT
Speaking your true thoughts might be next to impossible. It might be better to study others' failed attempts at finding words. Can you stay silent for long?
More For Today:
Weekly Love Horoscopes
What's on your romance horizon??
Read what's in the stars for your relationship in the days ahead with your free weekly love horoscope.
Love Compatibility Meter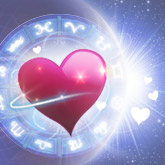 Headed for Love?
Will your new romance fizzle ... or sizzle? See how much of a match you really make with our FREE Love Meter! You may be surprised at the results (wink, wink).