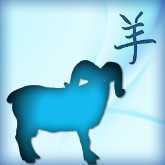 The Goat's 2013 Chinese Horoscope
Cool and confident

The Goat can start feeling a lot more confident in the Year of the Water Snake. Your sensitive sign is able to pick up on all the subtle energies generated by a Snake year. You will be able to detect golden opportunities at every turn. If you get a good feeling from a potential business or romantic partner, honor that instinct. Fortunately, the Snake year underscores the Goat's desirability, so your shy sign probably won't have to make many overtures to form new friendships. All you need to do is to smile, be receptive, and luck can come flowing into your life.
Curious to see how your specific Chinese sign will fare this year? Try an Essential Chinese Astrology Profile to find out!
As far as health is concerned, the Goat needs to keep a tighter rein on its schedule. Appointments have a way of piling up fast in a sneaky Snake year. Take care not to make promises you can't keep. Setting aside one day each week to rest, relax, and recuperate will keep the Goat in top form throughout 2013.
Travelling on business will be a recurring theme this year, as Water years involve constant movement. While these trips will prove profitable, they can also dampen the Goat's spirits. Make a point of venturing outdoors every day, just to escape the monotony of airport terminals and hotel rooms.
The Goat's social circle will also expand in 2013. The leisurely pace of a Snake year makes it easy for you to relax in the company of friends. The Goat is sure to be very popular this year.
The Goat's love horoscope
Single Goats should make a special effort to get out and mingle throughout this Year of the Water Snake. The sultry, sensual Snake nature should put you in the path of romance. Joining an Internet dating service is also favored, as Water years enhance long-distance communications. It's entirely possible the Goat will fall in love with someone who lives all the way across the country, prompting one member of the couple to relocate. Any way you slice it, the Year of the Water Snake is one of the most favorable times for a Goat to get engaged or married.
Goats that are in committed relationships will also experience good fortune this year. The Water Snake encourages intimacy on all levels: physical, emotional and spiritual. This is music to the romantic Goat's ears. By spending more quality time with your partner, you are sure to enjoy a rewarding love life. Sex will also be especially enjoyable in this sultry Snake year.
The Goat's money horoscope
This Year of the Water Snake will be a busy one at work for Goat. Although financial prospects probably won't be spectacular, your income should be steady. It may feel as though you are working too hard for too little money, but that's the way the Year of the Water Snake operates. While it seems like nothing is happening on the surface, the Goat will make significant strides toward a raise, promotion, or both. This award probably won't come until next year, though, so patience will be a virtue in 2013.
The Goat should have opportunities to attract fame and acclaim this year. The versatile energy of the Water Snake year enhances the your creativity; take every opportunity to showcase your talent, whether it's through an audition, gallery or online portfolio. The more you publicize your work in the Year of the Snake, the bigger their fan base can become.
Don't forget to see what the year ahead holds for your sign with an Essential Chinese Astrology Profile!