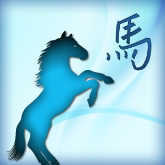 The Horse's Chinese Horoscope for 2013
Hold your Horses

Sincere and sociable, the Horse will find difficulty during the Year of the Water Snake. Snake years are secretive, seductive and slow. It's difficult for the energetic Horse to slow its pace, but there won't be much choice. Trying to hurry the pace of life will result in a painful bite. It's better for you to stop, assess the terrain, and switch from a gallop to a walk.
Curious to see how your specific Chinese sign will fare this year? Try an Essential Chinese Astrology Profile to find out!
Injuries can abound for careless Horses during a Snake year. Therefore, wear safety equipment when they're working out or using dangerous equipment. Extreme sports should be avoided altogether. The Year of the Water Snake often involves unexpected surprises, and the last thing you need is a sudden trip to the emergency room.
The Horse has some excellent travel prospects, and should take advantage of them in this Water Snake year. Even short trips out of town will prove a welcome change of pace for your curious sign. Snake years do award adventurous types, so this is one area where the Horse will thrive. The more exotic the location, the greater your luck will be in 2013.
This year is ruled by the Water element, which can dampen the Horse's natural enthusiasm for life. When this sign becomes tired and despondent, intellectual exercise can help. Taking a class, attending a study group, or doing puzzles can help keep depression at bay. Outdoor activities like biking, gardening, and bird watching will also lift the Horse's spirits during the Year of the Water Snake.
The Horse's love horoscope
The Year of the Water Snake forces the Horse to take a more realistic approach to love. Holding out for a fairy-tale ideal will result in disappointment. If you want to embark on a relationship, be more forgiving toward your love interest's human frailties. Snake years favor adventure, so it would be wise for the curious Horse to pair up with another intrepid spirit. Otherwise, you will quickly grow bored and seek greener pastures.
For Horses that are already in a relationship, you should take care to love, honor, and cherish your mate. Snake years are famous for bringing scandals to light. Even a casual flirtation could prove disastrous for a committed Horse. Avoid making flirtatious remarks and sending suggestive e-mails to casual friends -- it's not worth the jealousy that will inevitably result in this Year of the Water Snake.
The Horse's money horoscope
The Year of the Water Snake should bring welcome stability to the Horse's finances. If you are looking for a job or have been underemployed, chances are good that you will find a permanent job this year. Snake years often involve unexpected changes, which will affect the Horse's career path. You may enter into an entirely new field in 2013, resulting in significant financial success. The Snake year benefits versatile creatures; fortunately, the Horse is famous for its flexibility.
Becoming more fiscally savvy is strongly advised for the Horse. The Year of the Water Snake rewards those who are willing to look beneath the surface for answers. By taking a class in financial management and investment strategies, you can make the most of the beneficial energy this year affords. 2013 can also help you get out of debt, provided you forgo few luxuries. Snake years reward those who carry out long-range financial plans.
Don't forget to see what the year ahead holds for your sign with an Essential Chinese Astrology Profile!