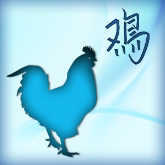 The Rooster's Chinese Horoscope for 2013
Be your bold self

The Rooster has plenty to celebrate during the Year of the Water Snake. This courageous sign will be rewarded for taking chances and venturing into unfamiliar territory. People will herald your leadership ability and seek your expertise. The Year of the Water Snake favors anybody who uses their superior knowledge to uplift and inspire others.
Curious to see how your specific Chinese sign will fare this year? Try an Essential Chinese Astrology Profile to find out!
Because this is a Water year, the Rooster will be extremely creative and productive. Activities like writing, painting, playing music, and dancing will make you more flexible and forgiving. The Water element also enhances your sign's natural intelligence, and may prompt you to take an advanced class or launch a research project.
As far as health is concerned, the Rooster's digestive system will be a little delicate in 2013. You would be wise to avoid very spicy dishes. Minimizing sugar, fat, and alcohol intake is also advised. When travelling overseas, the Rooster should only drink bottled water, and forgo beverages with ice. Snake years often involve elements that are hidden beneath the surface. In the case of the Rooster, the secret ingredient may be harmful bacteria.
Snake years reward those who are cool and calculating, thereby benefitting the cunning Rooster. Follow your instinct to assess your environment, seek hidden opportunities, and make powerful friends. Rivals will envy your progress, but everything you receive will be the result of your own hard work. The Year of the Water Snake does not take kindly to slackers, which is why the diligent Rooster will thrive.
The Rooster's love horoscope
The Year of the Water Snake will be very romantic for the Rooster. Single Roosters should be selective about dating. There's no point wasting time with someone who doesn't appreciate your intelligence, humor and honesty. By holding out for a partner who has a healthy ego and is family-oriented, you will be rewarded. The Snake year favors those who are patient, especially regarding important matters like love.
A Rooster that is already in a committed partnership will enjoy an increased intimacy. Snake years are sultry, sexy, and seductive. By making plenty of time for lovemaking, you can solidify a happy relationship, or strengthen a shaky one. Jealousy could rear its ugly head in 2013, but it will be unfounded. The Year of the Water Snake can give rise to unwarranted fears. Yet if you refuse to give in to envious impulses, you will enjoy great happiness this year.
The Rooster's money horoscope
The Rooster's prospects for making money are excellent in the Year of the Water Snake, which bestows your sign with impeccable timing. Your uncanny instincts will help when it comes time to negotiate a raise or salary. The Rooster's ability to stay calm and cool under pressure can pay off handsomely.
Although you will probably make money easily in this Snake year, it's important for you to cultivate good work relationships. By taking time to compliment co-workers, your status will rise at the office. It doesn't cost anything to write a thank you note or praise somebody else's performance. Self-employed Roosters can likely hire helpful staff members this year, thereby increasing your productivity and profit margin. When it comes time to find new employees, the Rooster should seek people who want a mentor. Snake years favor teacher-student relationships.
Don't forget to see what the year ahead holds for your sign with an Essential Chinese Astrology Profile!