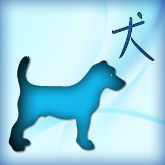 The Dog's 2013 Chinese Horoscope
Beyond the boundaries

The subtle shifts involved in the Year of the Water Snake year make the steadfast Dog nervous. If you are going to thrive in 2013, you must become a little more flexible. Being receptive to the changes ahead will help the Dog find love and money in 2013. Clinging stubbornly to old patterns will be an exercise in futility, anyway. The only thing constant in the Year of the Water Snake is change.
Curious to see how your specific Chinese sign will fare this year? Try an Essential Chinese Astrology Profile to find out!
The Water element means additional responsibility for the Dog. Fortunately, your dutiful sign likes to stay busy. Taking care of relatives, befriending newcomers, and running errands for sick neighbors will be a good use of your time this year. In fact, the more you follow your generous instincts, the greater rewards you will reap.
The Dog needs to be vigilant about its health in a Snake year. Regular check-ups are critical to your well-being. It's also important to attend to small aches and pains in the early stages. Neglecting a chronic problem will cause it to escalate. Snake years can be very deceptive, because changes occur beneath the surface. Therefore, a battery of tests can be helpful in detecting illness at its earliest stage.
It is important for the Dog to conserve its energy this year. Snake years are deceptive. And can cause you to feel overly confident. Then, after loading up your schedule with appointments, you will fall down, panting and exhausted. By creating healthy boundaries, you can reap great benefits from the Year of the Water Snake.
The Dog's love horoscope
Friendship could turn to romance for the Dog in the Year of the Water Snake. Your sign is very cautious about letting down its guard with unfamiliar people. Fortunately, the sexy Snake year can increase your appreciation for a platonic pal. And luckily, the feeling seems to be mutual. Single Dogs would be wise to search their social circles for a suitable partner.
A Dog that is in a committed relationship needs to cut their partner a little slack this year. The Year of the Water Snake puts a tremendous emphasis on flexibility. If you are too demanding toward your mate, a breakup could ensue. The sooner you accept your lover's human foibles, the better your love life can become. There is a chance that infidelity will rock your world in 2013 -- Snake years tend to put temptation in everyone's path -- and this may be a deal-breaker for you ultra-loyal Dogs.
The Dog's money horoscope
It's important for the Dog to demand credit for the work it performs in this Year of the Water Snake. Snake years prompt people to behave in underhanded, sneaky ways. If you aren't careful, a colleague could try to take responsibility for the jobs you perform. Therefore, it's important =to assume a more prominent role in the workplace. Drawing attention to your own achievements doesn't come naturally to the discreet Dog. However, it is important for you to showcase your own accomplishments during a deceptive Snake year.
The wise Dog will take a conservative approach to money in 2013. The Year of the Water Snake often incurs unexpected expenses. By putting a set portion of its income into savings each pay period, you will be in a better financial position. Unemployed Dogs will likely find work on their own steam, provided you emphasize your unique talents and accomplishments. A resume revamp is strongly advised.
Don't forget to see what the year ahead holds for your Chinese zodiac sign with an Essential Chinese Astrology Profile!