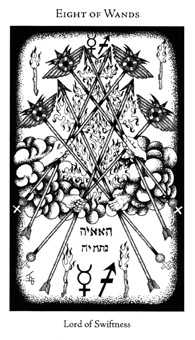 Get ready for a huge jolt of energy, as this week's card, the Eight of Wands, brings rapid progress! Remaining doubts and impediments are cleared away, and you are able to leap forward with your plans. How might this manifest in your life? On the career front, this could come in the form of a promotion, acceptance of a submission or proposal, or any opportunity to have your ideas/work be seen by others. In relationships, this could mean taking the next step in intimacy with someone you care about, allowing your love to grow and expand into the future.
Keep in mind that leaps like this don't usually happen unless you've put a plan into place already. If you're not seeing the kind of progress you'd like, maybe you haven't done enough preparation or haven't attempted the refinement that the previous cards this month suggested. Maybe you've been too afraid of taking risks. Use the energy of the Eight of Wands this week to re-evaluate and lay the groundwork for a leap ahead.
Steer your energy in the right direction this week with personal guidance »
Looking ahead
This month has been about recognizing your greater purpose and gathering the confidence and personal power needed to devote yourself to it. What a powerful assortment of cards, with three out of five pulled (Judgement, Emperor, Eight of Wands) tied to the drive and passion of the element of Fire! If you harness that energy, you can follow your new mission into a focused, successful life. As you leap ahead in this time of great momentum, keep a tether to who you are and where you came from. Use these points to steer by as you move through the rest of this month and beyond. You've made excellent progress so far learning how to navigate with honesty and continued clarity, and next month's card, the Hanged Man, will strengthen your ability to know what's right for you. A shift in perception will allow you to release past patterns and assumptions, continuing vital personal growth.
Steer your energy in the right direction this week with personal guidance »