General Daily Love Horoscope:
Saturday, July 23, 2016Today's Pisces Moon cozies up to Neptune, giving us the green light to enjoy taking a long swim in our romantic reverie. At the same time, a Venus-Mars connection may magnify a strange twist in our current love relationship circumstances. Taking a moderate route during stressful moments can help us stay emotionally balanced and allow us to maintain a healthy perspective. Our top goal should be keeping the peace with the ones we love most right now.
Need more insight? Try a Daily Reflection Tarot Reading for clarity.
---
Choose Another Zodiac Sign:
Psychic Tip of the Day
HONEST DAY
Truth and sincerity rule the day. Your integrity will open doors and love can blossom relative to your credibility. Have you been honest enough to be counted on?
More For Today:
Weekly Love Horoscopes
What's on your romance horizon??
Read what's in the stars for your relationship in the days ahead with your free weekly love horoscope.
Love Compatibility Meter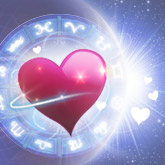 Headed for Love?
Will your new romance fizzle ... or sizzle? See how much of a match you really make with our FREE Love Meter! You may be surprised at the results (wink, wink).
Tarot & Astrology Articles
---