General Daily Love Horoscope:
Tuesday, May 24, 2016Venus sends joyful, transformational, romantic energy into our love lives now that it waltzes through Gemini until June 17th. We have every reason to use such special cosmic conditions to our benefit, but we'll have to work toward a specific goal to be successful. The planet of love's opposition to Mars may intensify our feelings today, but because the Moon is in Capricorn right now, we'll be able to overcome any emotional flare-ups that come our way.
Need more insight? Try a Daily Reflection Tarot Reading for clarity.
---
Choose Another Zodiac Sign:
Psychic Tip of the Day
LOTS HAPPENING
Staying clear about where you two are going can be difficult when so much is happening. Try to stay in touch with fundamental realities. Are you having too much fun?
More For Today:
Weekly Love Horoscopes
What's on your romance horizon??
Read what's in the stars for your relationship in the days ahead with your free weekly love horoscope.
Love Compatibility Meter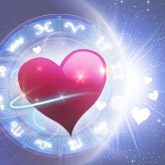 Headed for Love?
Will your new romance fizzle ... or sizzle? See how much of a match you really make with our FREE Love Meter! You may be surprised at the results (wink, wink).
Tarot & Astrology Articles
---